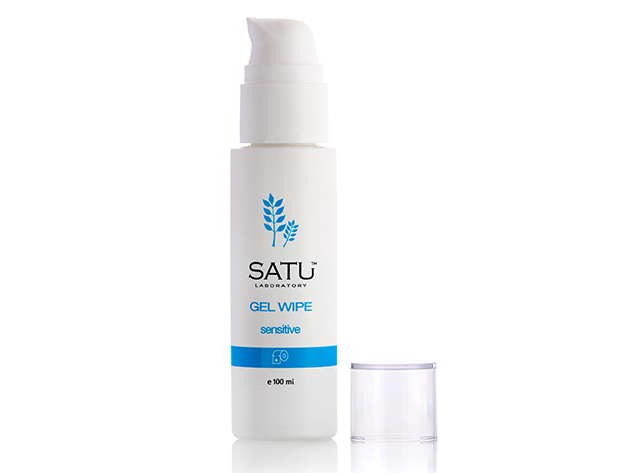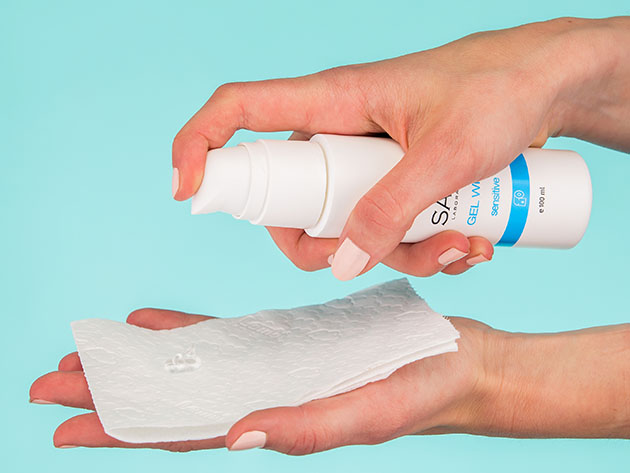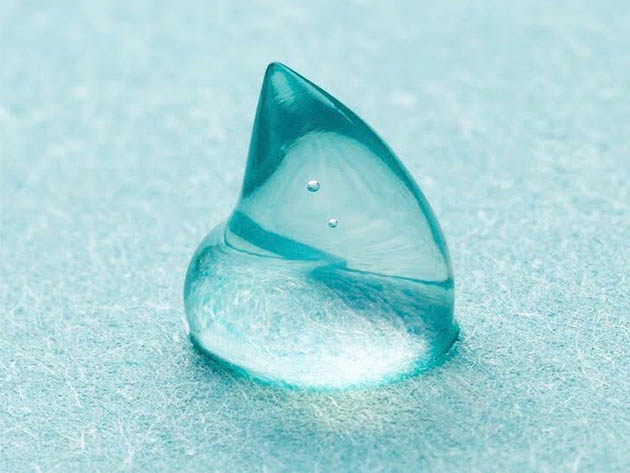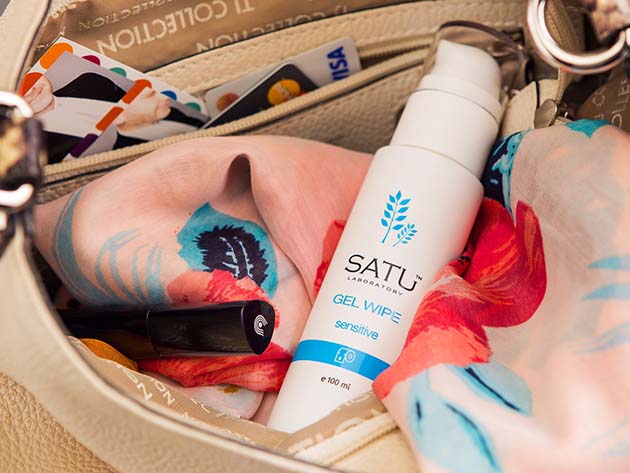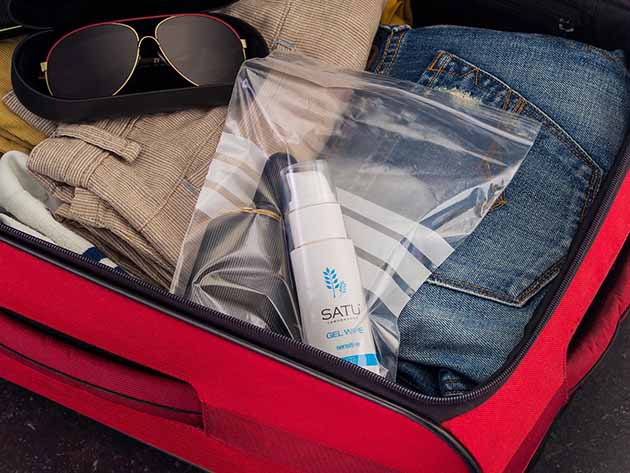 Toilet Paper Gel with Vitamin E
by SATU laboratory
Spray This Gel to Your Regular Toilet Paper & Wipe Your Bum Clean While Leaving It Moisturized
Description
You wouldn't use dry paper to remove chocolate sauce from your hands, so why use dry paper to wipe your bum? When you add SATU laboratory's Gel Wipe to your regular toilet paper, you're better able to remove all of the waste left behind by dry paper—plus remove more germs and bacteria than with dry paper alone. The special formula keeps the gel from soaking through the paper so it won't break apart and your fingers stay clean.

A single bottle of Gel Wipe contains enough gel to moisturize 20 to 40 full rolls of toilet paper. Three months for a single person, or one month for a family of four. The bottle can be locked to avoid accidental leaks and is just the right size to be taken on an airplane. Keep an extra bottle in your travel bag.
Truly flushable wipe that is safe for every kind of toilet
Works with regular toilet paper
The special formula keeps the gel from soaking through the paper, so your fingers stay clean
Made with Vitamin E and Panthenol for sensitive skin
Portable with lockable pump
Made in EU
NOTE: Toilet paper NOT included.
How to Use
Wipe with a dry toilet paper and discard it into the toilet after use
Take a new, clean sheet of toilet paper and fold it over so it's doubled
Apply a single drop of gel on the folded toilet paper and wipe with it. Discard into the toilet
Wipe once more with dry toilet paper to finish up
Enjoy your clean bottom all day long
Why Use SATU's Toilet Paper Gel?
SATU Laboratory is the world's original and leading toilet paper gel company with a Nordic heritage. As a socially responsible Nordic company that cares about people's health and environmental protection, they manufacture in Europe and use only high-quality components. That's why the gel is approved for use by some of the largest toilet paper manufacturers in Europe and is tested in the EU to be safe for children
The gel sits on top of the toilet paper. It doesn't soak the toilet paper so your fingers stay clean when wiping
Keeps you clean & your underwear spotless. Nothing is left behind when you use toilet paper gel
Better than using "flushable" wipes. Think they're flushable? Think again. Just Google "Fatbergs or Ryerson University 101 wet wipes test."
Celebrities believe in it too
Famous names like
Will.I.Am
, Will Smith, and Terence Howard are all advocating a proper toilet cleansing routine. Will Smith likes a clean bottom so much that he says:
"I'm the type of person that it's important for me to share. When I experience something that's special and incredible, I like to share it with people. Anyone who's using dry toilet paper, you're really not doing yourself the true service,"
he told BBC's Radio
Specs
Specs
Ingredients: Aqua (88%), Alcohol, PEG-40, Hydrogenated Castor Oil, Propylene Glycol, Allantoin, Tocopheryl Acetate, Panthenol, Carbomer, Ethylhexylglycerin, Triethanolamine, Imidazolidinyl Urea, Phenoxyethanol, Methylparaben, Ethylparaben
Size: 3.4oz (100ml)
For 20-40 rolls of toilet paper
3 months for a single person/1 month for a family of 4
Approved for children under 3 years of age
Expiration date is 2 years from production
Includes
Toilet Paper Gel with Vitamin E
Shipping
Ships to US
Expected Delivery: Aug 20 - Aug 26